Milka Duno Officially Received by Venezuelan Embassy to France in Paris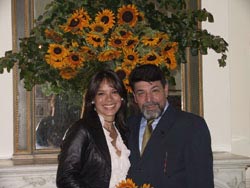 June 10, 2002 Venezuelan Embassy in Paris - American Le Mans Series Driver Milka Duno was officially received today by the Venezuelan Embassy to France in Paris.
Milka is in France to compete in the 70th running of the legendary 24 Hours of Le Mans on June 15 & 16. Milka is not just the only Venezuelan in the race - she is also the only woman. Competing in an Open Telefónica Formula Nissan race on Sunday in Spain, Milka flew direct from Spain to France.
The 2000 Venezuelan Driver of the Year was met at Charles de Gaulle Airport in Paris by Javier Diaz, the First Secretary of the Venezuelan Delegation at UNESCO and Marco Peñaloza, the Financial Counsellor of the Embassy.
Milka was then transported to the Embassy where she was officially received by the Chargé d'Affaires Johnny Marquez in the red-carpeted foyer of the 19th century mansion - originally built for the daughter of Venezuelan General Juan Vicente Gomez.
Mr. Marquez proceeded to give Milka a tour of the Embassy and the formal gardens that lead to the Consular Section of the Embassy compound before bringing her back inside to the Cristóbal Rojas Room for a casual - yet lively - press conference.
"We are very happy to formally receive Milka on her way to the race in Le Mans, and very happy to have such a beautiful and talented daughter of Venezuela here with us," said Mr. Marquez. "We are going to give her all of our support during her stay in Paris and also when we attend the race this weekend."
"I'm very excited and proud to be invited here and given this tremendous honor," said Milka. "I'd like to thank Mr. Marquez for his warm welcome and his gracious hospitality. The Embassy is beautiful and the entire staff is very kind. I was nervous with anticipation before the visit and found myself warmed by their support and attention within just a few short minutes. I feel as though I've made many new friends!"
Later this evening, the Chargé d' Affaires and his wife will take Milka to one of Paris' most fashionable bistro's, immediately following dinner