MBD SPORTSCARS' ROAD AMERICA PRE-RACE REPORT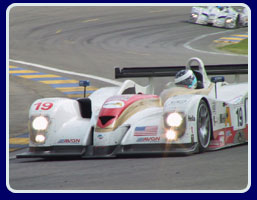 July 5, 2002 , Elkhart Lake, WI - The MBD Sportcars Team is in the paddock here at Road America busily readying their two Panoz LMP07/Mugen's for this Sunday's Road America 500.
Just as at last week's Grand Prix of Mid-Ohio, the team will once again field their two team cars - the #17 driven by teammates Milka Duno and John Graham, and the #18 with Didier de Radigues and John Graham sharing the drive time.
The team hopes to have a result at this weekend's 500-miler as good as last week's at Mid-Ohio where the #17 scored an 8th place overall and a 6th in class - the team's highest finish to date.
Today marked the first time the ALMS entries were allowed to take to the track during an IMSA-sanctioned Promoter's Test Day that found the LMP's sharing the circuit with the GTS and GT cars from 12:30-1:30pm EDT and then just the LMP's from 1:30-2:00pm EDT. In today's test the #18 placed 7th overall and the #17 came in 10th overall.
Immediately following the Test Session, here is what three of the MBD drivers had to say:
John Graham:
"It's great to be back here. Road America is one of America's premier tracks. It's a beautiful road circuit so it's great for the series I think that way, but from my point of view it puts us at a bit of a disadvantage because it is a power track and we're still developing our program. As far as the car's performance today, initially we're about 80% on set-up. I think everybody is still learning the track because a lot of these competitors haven't been here before. There were a few incidents this morning where we were behind GT cars that weren't really looking - it caused a little bit of a problem, but other than that as long as the sky stays clear and the track stays dry it'll be great."
Scott Maxwell
"I had pole here last year with Multimatic and the Lola SRPII - but we broke in the race. The track here is fantastic. It's long and it's fast. I love this track. Our performance on the track today was reasonable and we haven't found the balance yet, so we still have a lot of work to do. We'll go a lot quicker tomorrow."
Didier de Radiques
"It's my first time here and I really like this track. A friend of mine and fellow driver Randy Wars, who's driving this weekend in Formula Mazda, let me drive his car yesterday morning for 10 laps or so which means I had a chance to learn this track a little bit before today. In fact, I was on the top of their list on the times in my first experience in a Formula car. I'm really enjoying this track. The Test went quite good considering that we tested today with a lot of fuel in the car and very hard-compound tires - too hard for the race."
The Road America 500 presented by the Chicago Tribune is a 500 mile/125 lap road course that has 12 turns spread out over it's 4 mile length. The Sunday race will begin at 12:15pm CDT and will be televised live on CBS starting at 4:00pm EDT.