MILKA DUNO'S FIRST BOOK SIGNING IN VENEZUELA!
Milka to Sign Copies of Her Award-Winning Children's Book
"Go, Milka, Go!" at Sambil Margarita Mall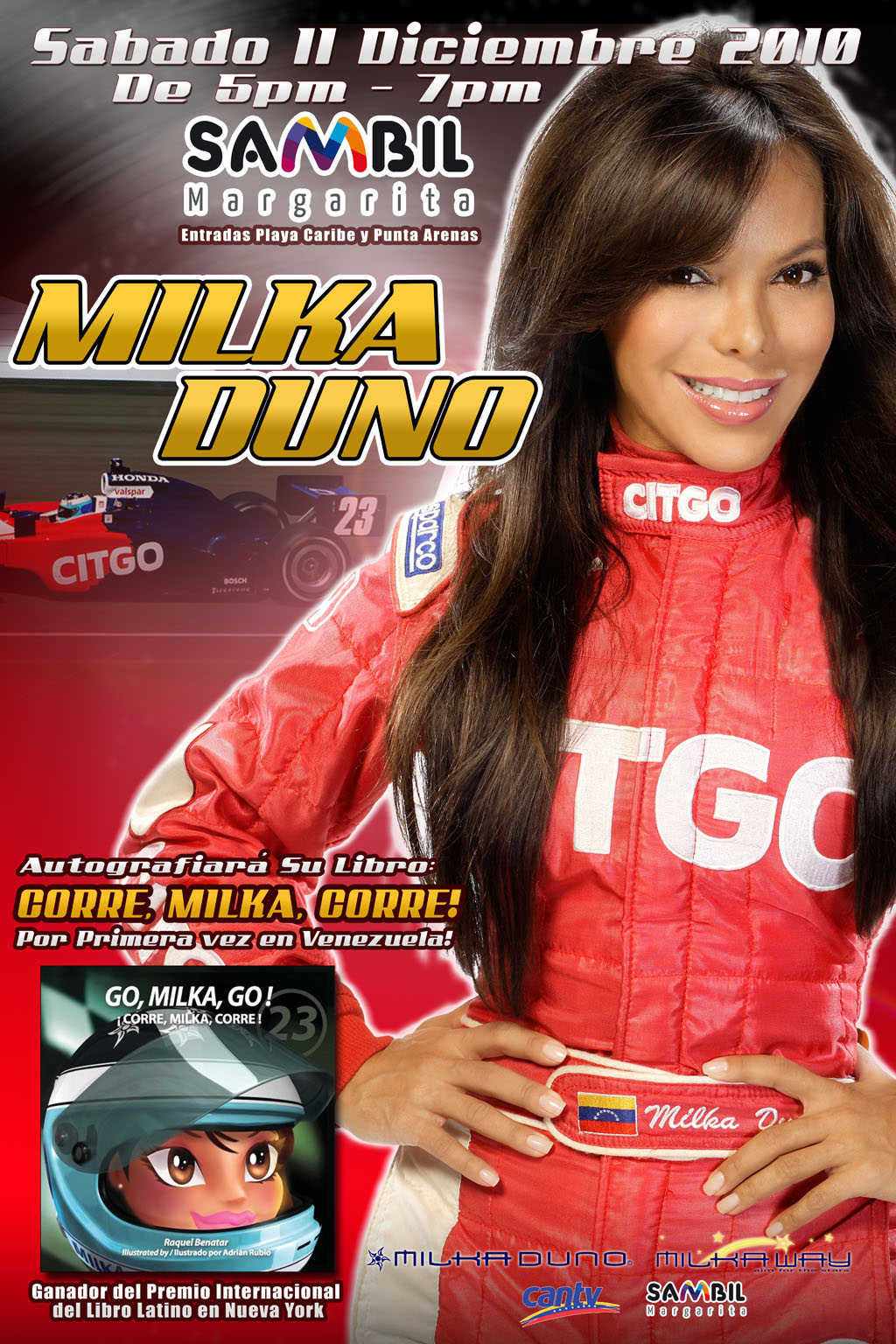 PORLAMAR, VENEZUELA (November 29, 2010) – Venezuela's favorite female athlete and top international race car driver Milka Duno will have her first-ever book signing in Venezuela this Saturday, December 11 from 5 – 7pm at Sambil Margarita Mall.
"Go, Milka, Go!" - the bilingual book about Milka's life and racing career, was awarded the Best Young Adult Sports/Recreation Book of 2009 at the 11th Annual International Latino Book Awards in New York, NY. The prestigious awards honor literary excellence within the Latino community in a variety of categories.
Duno, who loves to interact with children and young adults – and their parents, will sign copies of her book, answer questions, pose for photos and offer words of encouragement and inspiration.
"I'm so excited for my first opportunity to sign copies of my book for people in my own country of Venezuela," says Milka. "Many friends and fans have encouraged me to do this for a long time, but this will be my first opportunity to do so. My racing career takes me all over the world but at the end of the season is when I get to come back home and I can't wait to meet as many friends and fans as possible!"
In the book, Venezuelan race car driver Milka Duno is a playful, studious, and mischievous child as she races and competes through the inspiring pages of this children's book. Milka shares her most tender early childhood memories, her desire to learn and achieve, and the dedication necessary to succeed, from the first school days in Caracas, Venezuela, to the competitions at racing circuits all over the world. Through the story, young readers are inspired by Milka's message: the value of education, the pleasure of competing and winning, the importance of a team effort, and that determination, solidarity and generosity are the main ingredients to a successful life. She demystifies popularity as it is understood today in schools; and above all, she supports hard work, discipline, perseverance and self-confidence as the path to fulfilling dreams.
Six years ago Milka created the "Milka Way" Program - whose mission it is to inspire children and students to "Aim for the Stars" and achieve academic excellence. Milka has taken this message to children and students at all school levels around the world - including Malaysia, Canada, all across the USA, Venezuela, Argentina, Colombia, Peru, Guatemala, Chile, Puerto Rico and Mexico - to help inspire and motivate them and help them understand the importance of education – and how a strong academic background will benefit them their entire life – in all aspects of their life – and in any career they choose.
"I am very passionate about education and I want to do everything that I can to inspire young people to study hard and aim for the stars!".
Earlier this year Milka was inducted into the Latin American International Sports Hall of Fame at the 35th Annual Latin American International Sports Hall of Fame Induction Ceremony in Laredo, Texas.
Milka had the additional very special honor of being the very first Venezuelan athlete inducted into the Hall of Fame.
About Sambil Margarita
Sambil Margarita – the largest mall in Venezuela – is located between Avenida Bolivar, Jovito Villalba and Main Street of San Lorenzo. The book signing will be at the Playa Caribe and Punta Arenas entrances.
For more info on Sambil Margarita visit:
http://www.sambilmall.com/Mall.aspx/4/Sambil_Margarita
About CANTV
CANTV is the leading integrated telecommunications services provider in Venezuela. As of March, 2007 CANTV has nearly 3.6 million fixed telephony switched access lines in service, nearly 8.2 million mobile subscribers, and nearly 528,000 broadband subscribers.
For more information please visit http://www.cantv.com.ve
For more information on Milka please visit www.milkaduno.com
Follow Milka:


____________________________