MILKA DUNO SIGNS WITH DALE COYNE RACING
Duno to Compete in Full 2010 IndyCar Series Championship Schedule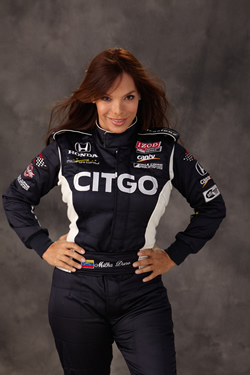 LOS ANGELES, CA (March 4, 2010) – IZOD IndyCar Driver Milka Duno has signed with Dale Coyne Racing for the full 2010 IndyCar Series Championship schedule. While this will be Duno's fourth consecutive season in IndyCar – it will mark her first full-schedule season.
"I look forward to competing with Dale Coyne Racing. I've had the chance to speak with Dale and the team to discuss goals for the season and we are in harmony in all areas", said Duno. "For the past three seasons I've only run partial schedules and I'm anxious to be competing in all the races this year. Doing so builds momentum and maintains consistency that I feel is a key factor to good results. The full schedule includes seven races at tracks that I have yet to compete on so I will be doing my absolute best to learn these new tracks as quickly as possible. This full season will be challenging – but I'm very thankful for the opportunity!"
Duno will contest all seventeen races on the 2010 schedule beginning with the Sao Paulo Indy 300 in Sao Paulo, Brazil on March 14, 2010.
"We are very excited about the challenges and rewards that lie ahead for Milka," commented Team Owner Dale Coyne. "We have seen Milka's competitiveness on the ovals and now we look forward to focusing on the road course effort on a full time basis in 2010."
Milka has won on road courses before in other categories, but 2010 represents her most serious attack at the road courses of Indy Cars. The team has planned an extensive testing program for the coming season with a focus on road and street circuits.
The team now prepares for its two car entry at the first race of the season in Brazil on March 14th. An announcement of Milka's team mate driving the #19 car will be made next week.
About Milka Duno
Duno is the first Hispanic woman, in the 93-year history of the race, to qualify for and compete in the Indy 500. She's also the first Hispanic woman to lead an IndyCar Series race. In 2004, she became the first woman in history to win a major race in the USA when she won the Rolex Series Grand Prix of Miami at Homestead-Miami Speedway.
She also scored a 2nd place overall finish in the legendary 24 Hours of Daytona – earning the highest finish ever by a female driver in the 45-year history of the race.
She has eight major race wins to her credit and many minor wins as well.
Duno became the first Venezuelan athlete to be inducted into the Latin American International Sports Hall of Fame at their 35th Anniversary Induction Ceremony in January, 2010.
A qualified Naval Engineer, Duno has four master's degrees - in Organizational Development, Naval Architecture, Aquaculture and Maritime Business – earning the last three degrees simultaneously. Six years ago she created the "Milka Way" Program - whose mission it is to inspire children and students to "Aim for the Stars" and achieve academic excellence. Duno has taken this message to children and students at all school levels around the world to help inspire and motivate them and help them understand the importance of education – and how a strong academic background will benefit them their entire life – in all aspects of their life – and in any career they choose.
Go, Milka, Go! - a book about Duno's life and racing career, was awarded the Best Young Adult Sports/Recreation Book of 2009 at the 11th Annual International Latino Book Awards. The prestigious awards honor literary excellence within the Latino community in a variety of categories.
About Dale Coyne Racing
Dale Coyne Racing, based in Plainfield, IL , is in its 26th year of fielding Indy cars. Known for recruiting and coaching drivers, Coyne's expertise and passion for the sport has led to his leadership position in the league. The team is currently in theTop-10 of the 2009 IndyCar Series Championship.

For more information, please visit www.dalecoyneracing.com.
For more information on Milka please visit www.milkaduno.com.
To follow Milka on Facebook please go to http://www.facebook.com/people/Milka-Duno/100000462696227
____________________________