MILKA DUNO TO APPEAR WITH COILMART AT METALCON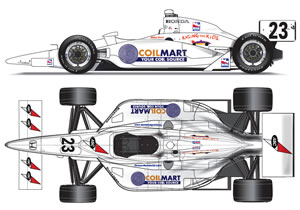 HOUSTON - With the 18th Annual Conference & Exhibition for the Metal Construction Industry, METALCON INTERNATIONAL, approaching, COILMART is excited to announce that IndyCar Series Star Milka Duno will be appearing at booth number 1423 on October 2nd for two hours starting at 1 p.m. Along with Duno, a COILMART-themed IndyCar Series machine will also be on display for
visitors to browse.
"I'm excited to meet all the vendors and visitors of Metalcon," Duno said. "I'm looking forward to representing COILMART and making those that visit better educated about the products and services of the company."
Duno has just finished her sophomore season in the IndyCar Series. In 2008, she made 11 starts with Dreyer & Reinbold Racing with a best finish of 14th. Among female drivers, she led the most laps throughout the season and had the highest finishing position in the Indianapolis 500. Off the track, she released a new childrens' book, "Go, Milka, Go!" as well as launched the "MANA Milka Way" initiative. Both seek to motivate students to achieve academic success. More information on Duno can be found at www.milkaduno.com.
Her team, Dreyer & Reinbold Racing, looks forward to 2009 when it will begin its 10th season of full-time competition in the IndyCar Series and lead-off the year with its 200th IndyCar Series start. The team, based in Carmel, Indiana, was formed in 1998 with Indianapolis businessman Dennis Reinbold and partner Eric De Bord.
Driver Robbie Buhl became a part of the ownership group in 2000 when the team made its full-time debut in the IndyCar Series. Their first race in this arrangement saw the team win at the Walt Disney World Speedway. Among driver alumni for the team include co-owner Buhl and previous Indianapolis 500 Champions Al Unser Jr. and Buddy Lazier. No other team has the historical ties to the Indianapolis Motor Speedway as Dreyer & Reinbold. Team co-owner Dennis Reinbold's grandfather "Pop" Dreyer built leading roadsters that raced at IMS during the 30s, 40s, and 50s. More information on the team can be found at www.dreyerreinbold.com/racing.
COILMART is one of three companies that form the Rigid Family of companies owned by Fred Campana and Alex Ghodsi. Established in 2004, with its first full year of operation, COILMART has grown to be a premier supplier of flat rolled steel coil to metal building component manufactures and metal building manufactures throughout the United States. With strategic shipping locations including Houston, Gadsden, Ala., Shreveport, La., Armorel, Ark., Birmingham, Ala., Jackson, Miss., Granite City, Ill., Weirton, W. Va., and Hawesville, Ky., COILMART is able to service its customers no matter where they are located. The management team includes a very dedicated and experienced steel industry team with more then 98 years combined experience. These members include: Jerry A. Jones, Vice President of Sales, Marketing, and Operations for COILMART and Millennium Building Components; Sean Burkett, General Manager of Sales and Operations for COILMART; Jeff Bonez, General Manager of Purchasing; and Ruben "Duke" Santillan, General Manager of Sales for Millennium Building Components. Also on staff is a full inside group supporting the outside regional account managers. Together, COILMART stands ready to provide quick, friendly, and fast service to its valued customers. Check out the COILMART web site at www.coilmart.com or visit booth 1423 during Metalcon to learn more about COILMART and our strategic industry alliances.
COILMART: "Racing to Earn Your Coil Business!"
____________________________