MILKA DUNO PRESENTS "STAR OF THE PEOPLE" AWARD TO MIGUEL BOSE AT 2005 EL PREMIO DE LA GENTE EVENT


Awards show to air on Telemundo this Saturday at 7pm EST/ 6pm CST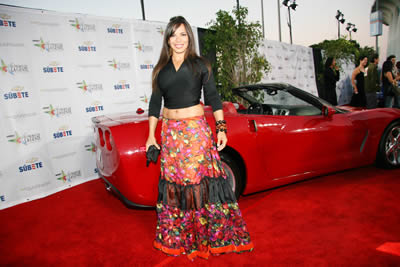 Los Angeles, CA, October 28, 2005 -- Top female racer Milka Duno had the very special honor of presenting the tribute award to Latin music icon Miguel Bose at the 2005 El Premio de la Gente event taped on October 13 at the Forum in Los Angeles. The two-hour show will air on Saturday night October 29, 2005 at 7pm EST/6pmCST.

Milka, together with Mexican singer Benny Ibarra, presented the highest award of the evening - the "Star of the People" award - to Bose, the star of the night and whose music has enamored three generations of women all over the world.

"They, Milka and Benny, are going to go a lot further than me," he said upon accepting the award. "This award is for you."

"It was very exciting to step into the music world for such a special night," said Milka. "That I had the honor to present the award to Miguel was simply amazing. I'm a huge fan of him and his music and the chance to meet him in person was an incredible experience!"

Milka wore a design by Samy Gicherman of Samy Gichermann Couture for both the red carpet and the award presentation.

Now in its 7th year, El Premio de la Gente continues to offer a spectacular production with live performances by many of today's hottest Latin music stars. El Premio de la Gente is the only Latin music event where the awards are voted on and chosen by Latin music fans.

Some of the many winners at Premio de la Gente were Daddy Yankee - who won four awards including "Male Pop Artist or Group of the Year" and "Album of the Year" and "El Bambino" who received the "Chevrolet New Artist of the Year." Columbian singer Juanes won "Popular Music Artist or Group of the Year," Laura Pausini won "Female Artist or Group of the Year" and Los Kumbia Kings as "Contemporary Artist or Group of the Year."

Milka competes with CITGO Racing for their second consecutive season in the 2005 Rolex Sports Car Series. She is the first woman in history to race in the highest class - the Daytona Prototype - in the #2 CITGO Pontiac Crawford. In her first season with CITGO Racing Milka became the first woman in history to win a major sports car race in North America when she won the 2004 Grand Prix of Miami. Milka scored her second Rolex Series win at the same venue seven months later. She recently scored her first win of the 2005 season and her third Rolex Series win at the Circuit du Mont-Tremblant in Canada. She is currently 6th in the Driver Point Standings. For additional information on Milka Duno please visit www.milkaduno.com .

CITGO, based in Houston, Texas, is a refiner, transporter and marketer of transportation fuels, lubricants, petrochemicals, refined waxes, asphalt and other industrial products. The company is owned by PDV America, Inc., an indirect wholly owned subsidiary of Petróleos de Venezuela, S.A., the national oil company of the Bolivarian Republic of Venezuela. For more information on CITGO visit www.citgo.com .
Milka is currently featured in Pontiac's largest ever Spanish language advertising campaign launching an all-new sports sedan - the Pontiac G6. Pontiac is a division of General Motors Corporation (NYSE: GM) and markets the Bonneville, GTO, Grand Prix, Grand Am, G6, Vibe and Sunfire. In 2003, Pontiac sold more than 475,000 vehicles, ranking third among GM divisions in total sales. 2004/2005 will see Pontiac launch an exciting new range of vehicles including the Montana SV6, G6 coupe, G6 convertible and the Solstice roadster. More information on Pontiac and its products can be found at www.pontiac.com . Information in Spanish can be found atwww.pontiac.com/sp .



__________________________

__