WINNING LATINA RACER MILKA DUNO FEATURED IN DOCUMENTARY SERIES ON THE BIOGRAHY CHANNEL

Four Part "Girl Racers" Series Premiers Tonight at 10pm ET/9pm CT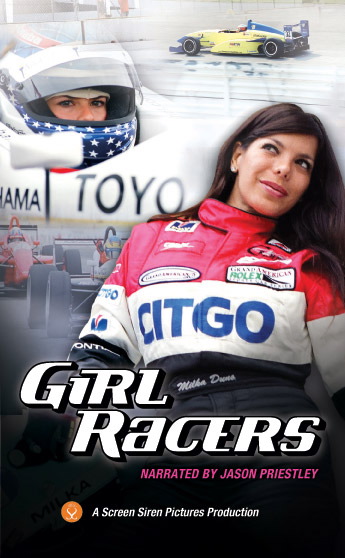 Los Angeles, CA, September 14, 2005 -- Top female racer Milka Duno is featured in "Girl Racers" - a new four episode documentary premiering tonight on The Biography Channel. As one of North America's leading female race car drivers "Girl Racers" followed Milka through her history-making 2004 racing season and captured the highs and lows of an extraordinary woman competing in a sport designed by men - for men.

Described in the documentary as "the complete package" Milka, along with seven other female racers, is captured on film as she navigates her way on track and off through the very competitive business and sport of motor racing.

Go behind-the-scenes with Milka as she chases - and catches - the checkered flag in a career that demands her complete focus and unique talents in the exciting sport of world-class racing - and the marketing arena needed to support it.

Episode One
September 15 at 10pm ET/9pm CT/11pm PT

Milka is introduced to viewers as "the complete package who has quickly attracted high level sponsorship" as she strolls down Miami's waterfront and receives glowing praise from Lyn St. James - the 1992 Indianapolis 500 Rookie of the Year. Her teammate Andy Wallace comments on Milka's physical strength and conditioning and how much it is needed in this very physically demanding sport. The episode shows her capturing her first win of the season - in only the second race - and the podium celebration afterward.

Episode Two
September 22 at 10pm ET/9pm CT/11pm PT

With her recent win marked in the history books Milka hits a rough road at her race in Canada. With repairs of major problems with her car eating up most of her practice time, Milka has to compete on a track she's never raced on, in a car still experiencing trouble - with almost no practice time at all. After the high of her first win the Canadian race is a major disappointment. Milka feels the pressure.

Episode Three
September 29 at 10pm ET/9pm CT/11pm PT

Milka is shown winning two races in the space of one week - at Homestead-Miami Speedway and at Road Atlanta. At Homestead-Miami Speedway Milka defends her first win there earlier in the season with a second win and then heads to another track, the very next weekend, in another series, in a different type of race car, and wins one of the most prestigious sportscar races in the world - the 1000-mile Petit Le Mans.

Episode Four
October 4 at 10pm ET/9pm CT/11pm PT

With history-making wins all season long Milka's career is racing as fast off the track as well as on. Milka is shown in Denver taping her first of many television commercials as the centerpiece in Pontiac's largest-ever Hispanic marketing print and television campaign.
GIRL RACERS is produced by Screen Siren Pictures.

Duno competes with CITGO Racing for their second consecutive season in the 2005 Rolex Sports Car Series. She is the first woman in history to race in the highest class - the Daytona Prototype - in the #2 CITGO Pontiac Crawford. In her first season with CITGO Racing Duno became the first woman in history to win a major sports car race in North America when she won the 2004 Grand Prix of Miami. Duno scored her second Rolex Series win at the same venue seven months later. She recently scored her first win of the 2005 season and her third Rolex Series win at the Circuit du Mont-Tremblant in Canada. She is currently 7th in the Driver Point Standings.

For additional information on Milka Duno please visit www.milkaduno.com .

CITGO, based in Houston, Texas, is a refiner, transporter and marketer of transportation fuels, lubricants, petrochemicals, refined waxes, asphalt and other industrial products. The company is owned by PDV America, Inc., an indirect wholly owned subsidiary of Petróleos de Venezuela, S.A., the national oil company of the Bolivarian Republic of Venezuela. For more information on CITGO visit www.citgo.com .

Milka is currently featured in Pontiac's largest ever Spanish language advertising campaign launching an all-new sports sedan - the Pontiac G6. Pontiac is a division of General Motors Corporation (NYSE: GM) and markets the Bonneville, GTO, Grand Prix, Grand Am, G6, Vibe and Sunfire. In 2003, Pontiac sold more than 475,000 vehicles, ranking third among GM divisions in total sales. 2004/2005 will see Pontiac launch an exciting new range of vehicles including the Montana SV6, G6 coupe, G6 convertible and the Solstice roadster. More information on Pontiac and its products can be found at www.pontiac.com . Information in Spanish can be found at www.pontiac.com/sp .



__________________________

__